Genetic Testing Labs Billing & Credentialing
Complicated Testing Shouldn't Require Complicated Billing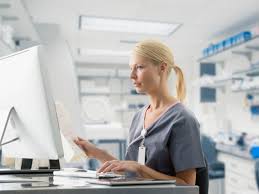 Genetic Testing has greatly evolved over the past few years with labs becoming an industry staple for everyday health and wellness. It has become an increasingly important and effective tool in identifying and treating disease.
Genetic testing confirms or rules out genetic conditions as well as determine whether a person can pass those conditions onto their offspring. This helps clinicians focus on the correct treatment as quickly as possible which leads to better health outcomes for patients.
Over the past several years, innovation around genetic testing has helped drive tremendous growth in this testing field. This growth in genetic testing is impressive – approximately 14 new tests enter the market each day. Currently, there are approximately 75,000 genetic tests, creating dizzying complexity for patients, providers and health plans.
Most insurers now require that the appropriate ICD-10 codes and authorization be on file prior to a claim being submitted. Without such prior documentation and DX codes, those claims will be denied. 
That's why we offer medical billing services to help you through this ever-changing maze of billing codes and procedures. We are also pleased to offer credentialing services to let you focus more on your core business than the mounds of paperwork to complete the process.
Billing
Let the specialists at Medwave help organize for all the requirements essential to getting your claims paid sooner, every time. Our team is quite proficient and has the know-how in the medical billing and coding needs of genetic testing lab specialists and has firsthand experience working with both commercial and government insurance firms to get your claims paid fast and efficiently. You can be assured our end-to-end medical laboratory billing services provides maximum reimbursement while reducing overall costs and time to payment. 

Here's what we offer:
Complete solution


We totally take care of your billing. Your staff will no longer have to perform data entry, amend claims or contact patients to collect money. Moreover, we believe rejection and denial processing is what sets great billing companies apart from the run-of-the-mill, ordinary billing company.

That's why Medwave never overlooks an opportunity to appeal an insurance rejection to make sure your lab gets paid properly and quickly.
Increasing client revenue


Medwave has assisted our medical laboratory clients in boosting their monthly income via superior billing performance by our team of highly trained experts. We also proactively notify your lab on fee schedule developments and can help with contracting if required.

Reduce in-house staff


Employ Medwave and allow us to be your billing staff

. You'll no longer have to be concerned with taxes, vacation/sick leave, payroll or personnel supervision when you work with us.

Even should you choose to maintain some of your current billing staff, but shuffle their responsibilities, you can be confident in knowing that your billing is being managed expertly and attended to each day.

Transparency


Even when you outsource to experts,

you still need to know what's going on with your medical lab claims.

A well-thought-of and reliable lab billing company such as Medwave will provide you regular reports

that make known what they've been doing for your lab and where you stand with claims.

There's no need for you to micro-manage, however, you do want to at least keep an eye on the billing to ensure it's being taken care of efficiently.

Security


Patient privacy is essential to your lab's success, not only because you're maintaining a business and your clients are entrusting you with their confidential information.

But you also must obey federal and state privacy laws, such as HIPAA rules and regulations.

Medwave is a trustworthy provider of lab billing services, one that takes security as seriously as you do.
Credentialing
Credentialing refers to medical or insurance credentialing, as both are used interchangeably. Healthcare providers, including medical laboratories, who wish to bill an insurance company as an in-network provider must undergo a process of credentialing.
Put simply, medical provider credentialing is a process by which medical organizations verify the credentials of healthcare providers to ensure they have the required licenses, certification and skills to properly care for patients. It's an essential function for medical labs and others which precedes hiring or obtaining coverage by an insurance carrier.
About twenty years ago, healthcare providers still believed credentialing to be optional for building a practice. In contrast, today it's become more essential than ever for providers to be networked with insurance companies. This is largely due in part to more and more people in the U.S. having health insurance than ever before. And in many ways, those health insurance plans cover more than previously. This is especially true when it comes to medical lab procedures.
At Medwave, we offer a team of medical laboratory credentialing professionals committed to serving all your credentialing needs. From gathering relevant information to filing claims and following up with insurance companies, our specialists hand the entire credentialing process, allowing you to focus on your medical lab as a healthcare provider. 
We recognize that credentialing is a time-consuming process. That's why our credentialing team possesses the experience and know-how to get medical laboratory credentialing done quickly and efficiently. Our credentialing service includes such essentials as provider enrollment and primary source verification. The following post, Credentialing (On-Board Process for Providers, Facilities) elaborates our overall process in greater detail. In other words, we do everything from A to Z to get you approved.

Medwave credentialing benefits include:
We keep all your

credentialing information in one place.

We possess years of experience

to navigate through the processes

of Medicare and Medicaid provider enrollment, commercial insurance provider enrollment and other healthcare provider credentialing needs.

Our status reports on progress of credentialing

keep you up to date

.

Our application collection resources are

among the best in the industry

.

Our application completion includes

ongoing monitoring

.

Finally, our medical credentialing is perhaps most important because

it's the one method that permits patients to place their trust with utmost confidence in their chosen healthcare providers.
We could go on, but we'd rather you give us a call to make an appointment so we can properly demonstrate what Medwave can do to streamline your billing and credentialing processes, save you time and money, and put to bed those internal billing and credentialing headaches.
Our staff is here to help you and your office succeed in preparing claims and getting reimbursed. Contact us today to see how we can be the best asset to your genetic testing labs practice, by helping you get paid fast and efficiently.